What is the difference between wedding makeup and everyday makeup?
Makeup is makeup, right?
You wear it nearly every day so to enhance your appearance.
Makeup artists who deal with bridal makeup always get asked this question.
Bridal makeup is entirely different from the daytime makeup we usually do.
We can achieve a polished result with regular makeup that looks good in real life, but does it photograph well?
Will it last longer than 8 hours and still look fresh?
Do you really want to wear the same makeup style on your wedding day as you do at work or when you go out night clubbing.
Most girls get ready every day by having a quick makeup routine that they have adapted over the years. They get accustomed to always looking the same.
Let's Explain The Differences Between Bridal Makeup And Everyday Makeup.
But what if a skilled artist can make your features stand out even more?
A trained eye will quickly know what colours suit your complexion.
What techniques will highlight your best features and tone down the ones you don't like.
 A skilled makeup artist can minimise dark circles under your eyes.
Alter the shape of your nose, the shape of your eyes and your define your jawline.
The main difference is the extra time it takes to execute the final look.
It takes skill to know which are the best products for the end result.
The proper product selection is crucial; makeup for a wedding should last at least 12 hours.
It also needs to look beautiful in real life and photograph well.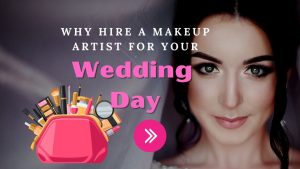 Why a wedding makeup artist is necessary for wedding makeup.
Every bride dreams of beautiful makeup, flawless skin and a classic look for her wedding day.
She has had an image in her mind of how beautiful and elegant she should look on her wedding day.
On the day of the wedding, the brides' makeup takes more time than the other bridal party members.
The makeup artist will spend more time with the bride; this process should not be rushed. There must be enough time set aside on the wedding day morning.
The makeup look is planned very carefully, and each makeup product is chosen to last and give the best results.
Usually, the bride has decided on a particular look for her big day.
The final look should accentuate her best facial features.
Every bride is different in terms of her makeup look and experience, so the makeup artist usually has to determine the bride's vision.
Often the bride will have a celebrity in mind as a reference for the end result.
If the bride's facial features are not the same as the celebrities, adjustments will need to be made.


Glamour Look Or Natural Look
Some brides want a smokey eye makeup look, but many brides will ask for a more natural look.
However, they will produce a photo of a red carpet look that is not minimal in the execution or in the number of products needed.
Many brides want a natural lip colour and natural-looking false lashes. Individual lashes are always a popular choice to give you the natural lash look.
Because it is such a special day, the bride will usually arrange a bridal trial where the makeup and hairstyle will be discussed and a practice run done.
The bride's makeup vision is discussed, and the artist creates a look based on what was discussed.
A trial run is essential as this allows any adjustments to be made for the big day.
(It is not uncommon for a bride to have additional requests for her makeup on the wedding day).
This trial run will ensure that the look she has chosen will suit her overall look and ensure that she is comfortable wearing it.
Professional Makeup Brands
The makeup artist will usually apply a combination of professional and long-lasting products, such as:
The foundation is correctly matched to her skin tone and skin type.
Translucent powder
Setting spray
Waterproof mascara
Long-lasting lipstick 
Eyeshadow either powder or a cream-based eyeshadow 
Eyeliner can be a smudge-proof pencil or a gel eyeliner
Eyebrows will need either a brow pencil or a brow powder
Blush will add warmth and dimension. Often Brides fear blush because they think that too much blush will make them look like a clown.
Bronzer adds extra contouring and warmth to the face.
High definition makeup can be used to avoid flash in photos. Still, it must be applied correctly to get the perfect skin look in photos. If it is not applied correctly, this will show in the images.
Many brides buy their own lip products, or some artists provide the bride with a lipstick or lip gloss that they recommend and sell.
You need to have a lip product with you to freshen up your lips, and your bridal party will need lipsticks for them too. 
Lipsticks are always a lovely gift for the bride to give to her bridesmaids on the wedding day.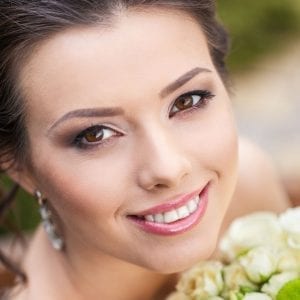 Hire A Makeup Artist For The Day
Brides with bigger budgets secure their makeup artist at the day rate and have them do touch-ups. This is why celebrities always look flawless.
They have an artist on call, so hair and makeup can be touched up or even wholly reapplied when they are at events.
If a bride has very oily skin, this may be the only way to ensure her makeup looks fresh.
Remove the makeup from her skin and apply a new foundation.
Often eye makeup still looks good and just needs a little touch up without reapplying the whole look.
Take The Stress Out Of Your Wedding Day. 
Using a mobile service ensures that your schedule is kept and you don't have to run to a hair salon to get your hair done.
They have the best quality products to give you a glamorous bridal transformation or let your natural beauty shine through with a skilful minimalist makeup look.
When you hire a professional service, such as a mobile hair and makeup service. You can now relax knowing that you are in good hands.
They know what they are doing.
Original post was featured here https://limitsofstrategy.com/wedding-makeup-artist/
The Article The Difference Between Wedding Makeup And Everyday Makeup. First Appeared ON
: https://gqcentral.co.uk